In January 2018, the visible-blue camera cryostat of the first spectrograph module was shipped from Johns Hopkins University (JHU, the United States of America) to Laboratoire d'Astrophysique de Marseille (LAM, France).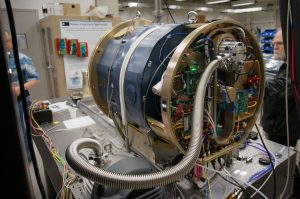 Visible-blue camera at Johns Hopkins University
PFS are developing the four identical spectrograph modules, each of which has three channels with visible-blue, visible-red and near-infrared camera units, in order to cover such a wide wavelength range as from 380 nm to 1260 nm

. JHU and Princeton University are in charge of developing the cryostats and focal plane assemblies of the visible camera units, and the entire near-infrared camera units. The red cameras were already sent to LAM, where we've carried out the image quality tests and the thermal performance tests using the red channel.
In parallel to the thermal performance tests in Marseille, JHU executed detailed tests to verify cooling performance of the cryostat using the visible-blue camera, which has the same design as the red. As we've studied the cooling performance and built up an operation sequence accordingly, we shipped the blue camera in order to proceed the integration of the first spectrograph module.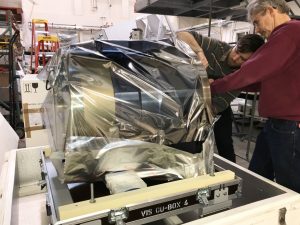 Engineers from Johns Hopkins University, Mirek Golebiowski and Josh Peebles, are packing the visible-blue camera.
Together with the blue cryostat, the mechanical parts of the focal plane assembly was shipped. The detector will be shipped from JHU separately in the near future. Hereafter, the optical elements and the detectors will be assembled in the cryostat to complete the blue camera unit, which will be then integrated to the entire spectrograph module, and the performance will be tested.