At the laboratory of California Institute of Technology (Caltech), USA, the fiber positioner modules are being assembled by Caltech, NASA Jet Propulsion Laboratory (USA), and Laboratorio Nacional de Astrofisica (Brazil).
PFS will develop 42 fiber modules for the observation, and the spare modules. We have been assembling the first module, testing it to control the 57 actuators "Cobra" in the module  and modifying the (electrical) designs which we found required. After passing the test with only Cobra, this month we finished assembling the first module by integrating the positioners and the fibers, and carried out the function and calibration tests.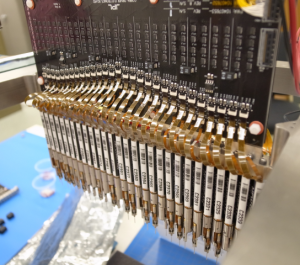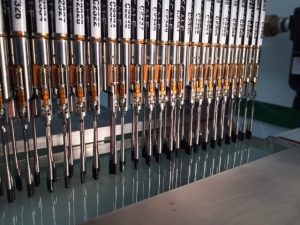 Fiber positioner module before (left) and after (right) assembling the fibers
Positioner moving with the fiber. The each two stage of the actuator is moved.
Excitingly, we have succeeded to move one module of 57 fibers using positioners!
The fiber positioner module under the test. With fibers back-kit, 57 actuators are controlled simultaneously.

We will proceed to assembly of the rest of modules, feed-backing what we have leaned from the integration process of the first module.