The integration of the Spectrographs Clean Room has been progressing at the Subaru Telescope observatory since last May, when the floor of the dome building was cleaned up. Recently, a crane has been installed to the ceiling structure of the spectrograph floor. This 500kg-capacity crane will be used to carry the individual components and sub-assemblies of the spectrograph module such as optical bench and camera units during its integration in the clean room.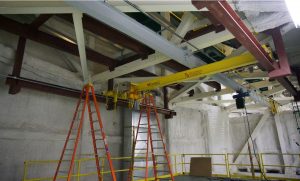 The crane hook in the middle of the photo moves across the bridge (yellow) and then the bridge moves across the runway (orange). This way, the crane hook has an access over the area that is about 4.5 meters wide and 7 meters long, most of the area in the clean room.
The clean room integration will be completed in a few months.