Let us start with a question this time: What do you think these parts are used for?
There are a number of holes…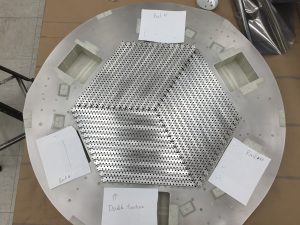 They are some of the parts for Prime Focus Instrument (PFI) named as the "Cobra bench" and the "rails", on which the fiber positioning actuators Cobra are installed (). As a picture below, one actuator is fixed in a hole of the rail on the bench of 70 cm diameter.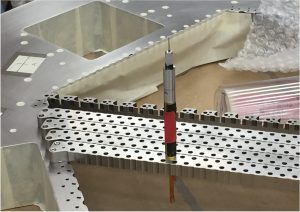 The bench and rails as well as the fiber positioners are developed mainly by California Institute of Technology and NASA Jet Propulsion Laboratory (see here). After the bench was precisely machined, it has been coated black to minimize stray light due to reflection. In the future, the bench and the assembled fiber positioner modules will be delivered to Taiwan, where they will be integrated to the PFI system, and tested.