On June 10-15 2018, there was the SPIE conference titled "Astronomical Telescope and Instrumentation" at Austin Convention Center, in Austin, Texas, USA. This is a big international conference of astronomical instrumentation held every two years. Hundreds of presentations are given about a wide range of topics across ground-based facilities, space missions, and R&D studies.
Like many other projects did so here at SPIE, the PFS project showed our presence by one contributed talk and seven poster presentations and reported the achievements so far and ongoing works of the instrument development.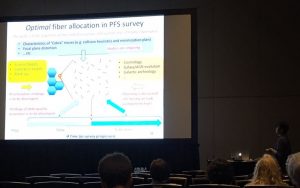 Talk by Naoyuki Tamura from Kavli IPMU, the University of Tokyo (PFS project manager).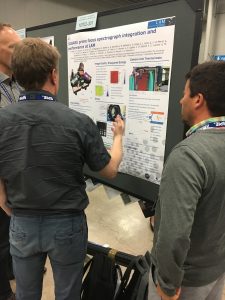 Poster about PFS spectrograph system being explained by Kjetil Dohlen (left) and David Le Mignant (right) from Laboratoire d'Astrophysique de Marseille.
Several members of the PFS technical team were participating in this conference for the presentations, so we also accommodated informal face-to-face discussions that were actually quite productive. Our challenge is continuing, and efficient communication is one of the important keys for such a big international team to complete the project. To achieve the goal, we will keep trying to exploit all such opportunities.