Written by Shiang-Yu Wang (ASIAA, Taiwan)
One of the PFS subsystems called Prime Focus Instrument (PFI), which will be installed to the prime focus at the Subaru telescope, comprises of a lot of different modules such as ~2400 fibers and their positioners, 6 cameras for acquisition and guide of a targeted sky field. These modules will be assembled at various other institutes separately and will be delivered to ASIAA (Academia Sinica Institute of Astronomy and Astrophysics), Taiwan, where they will be integrated to the "PFI" subsystem and tested for its performance to be verified before shipped to the Subaru telescope.
The integration and test facility for PFI has been fully assembled at ASRD (Aeronautical Systems Research Division), a partner for PFI integration in Taichung, Taiwan. The facility includes an environment control chamber of a 3-meter cube, a tilt stage with an x-y (i.e. 2D) scanner and a control room. The PFI will sit on the tilt stage in the environment control chamber for the whole integration and testing process. The facility is to provide the necessary conditions to characterize the home positions and movement of "Cobra" actuators for fiber configuration, and to verify that the target convergence can be achieved within required time and error budget. The temperature of the environmental chamber can be as low as -10C and can be controlled in the range from +5 to -5C to simulate the PFI operation conditions.
Further calibration between the x-y scanner and the PFI interface is in progress now.  We expect to start the PFI integration after the delivery of the Cobra Optical Bench is delivered in June.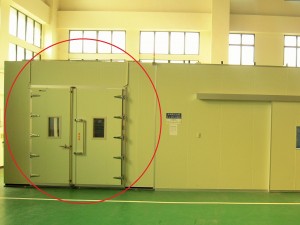 (Chamber: marked with circle. Next is the control room)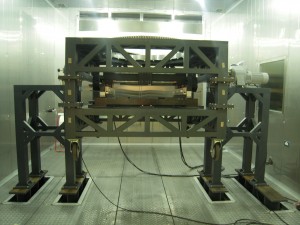 (Test stand)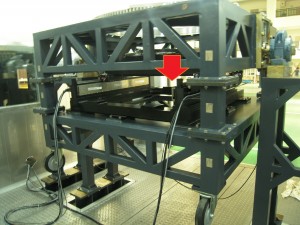 (2-D position scanner, marked with arrow)